Contents ↓
Snapshots
Snapshots make it possible to easily save and restore global state within a project. They are used to quickly recall different configurations.
Managing Snapshots
Manage Snapshots in the SNAPSHOTS section of the left-pane GLOBAL tab.
Use the + button to save a new Snapshot with the current settings.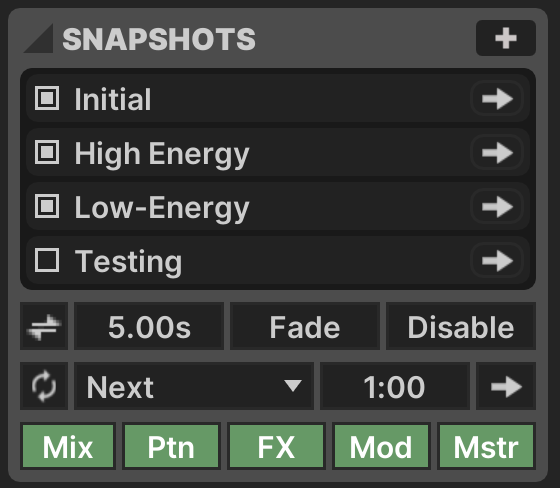 Snapshots may be renamed with ⌘R, reordered with ⌘↑ + ⌘↓, duplicated with ⌘D and deleted with DELETE.
Each Snapshot has a set of controls.
Cycle: Whether the Snapshot is elgible for auto-cycle
Label: Rename using

⌘R

Recall: button to recall this Snapshot
Use the right-click context-menu for additional options:
Update: Overwrites this Snapshot with the current settings
Cycle Time: Use a specific Cycle Time for this Snapshot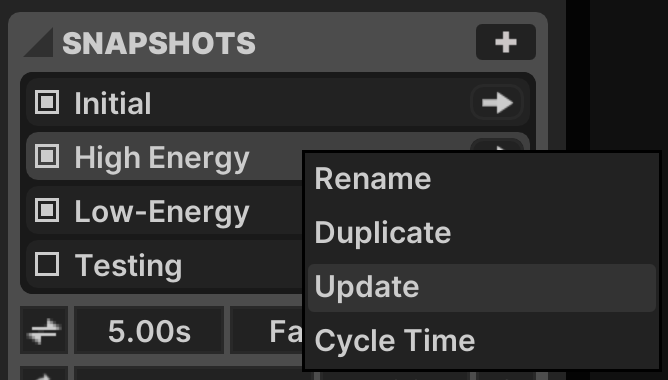 At the bottom of the SNAPSHOTS section are controls for Transitions, Auto-Cycle, and Snapshot Contents.
Transitions
You can avoid abrupt changes by using Transitions.
Transitions: When active, transition between Snapshots
Transition Time: How long the transition lasts
Channel Mode: How to animate changes to a channel's Enabled state

Fade: Fade a channel in or out before toggling the Enabled button
Toggle: Change the Enabled value immediately, may result in a visual jump

Missing Channel: Specify how channels that are not found in the Snapshot are handled (e.g. if they were added after this Snapshot was created)

Disable: Turn off unrecognized channels
Ignore: Do nothing to unrecognized channels
A progress indicator for an active Transition is displayed in the Transition Time box.
Auto-Cycle
Much like Playlist Mode for Patterns, an Auto-Cycle mode makes it possible to rotate through Snapshots on a timer.
Auto-Cycle: Whether auto-cycle is enabled
Auto-Cycle Mode: How to select the next Snapshot

Next: Always proceed to the next eligible Snapshot (one with the Cycle checkbox active)
Random: Choose an eligible Snapshot at random each time (not repeating the current one)

Cycle Time: Interval between cycles
Trigger Cycle: button manually triggers a cycle rotation
A cursor • is shown next to the Recall

button to indicate the current Auto-Cycle position.
A progress indicator for the current cycle is displayed in the Cycle Time box.
Note that when Transitions are enabled, explicitly recalling a Snapshot for a second time completes the transition immediately.
Snapshot Contents
Toggles are available to control whether recall occurs for each of the following categories.
Mixer (Mix)

Patterns (Ptn)

Channel Compositing setting
Playlist Mode
Active Pattern setting
Parameter values for the Active Pattern
Composite Mode
Parameter values for all Enabled patterns

Effects (FX)

Enabled state of each effect
Parameter values for all Enabled effects

Modulation (Mod)

Parameter values for all Global Modulators

Master (Mstr)